Designing beautiful Pinterest images that are high-quality and visually look great is important, that's for sure, however creating viral pins requires more effort than just creating beautiful images.
The visual aesthetics aren't the only thing makes a pin go viral. The look of a pin is actually only part of the formula that makes it go viral on Pinterest or not.
Pinterest may be more known as a social media network for sharing recipe ideas, blog posts, and décor inspiration. But, the site also doubles as one of the biggest search engines on the web. Your posts on Pinterest – aka "Pins" – live up to 1,600 times longer than on Facebook or any other platform:
The site also drives more referral traffic than Twitter, LinkedIn and Reddit combined. That's a lot of organic traffic.
So, are you struggling to get a good amount of traffic from Pinterest, and need to know the secret to making viral pins?
Here are nine tried and tested Pinterest marketing strategies to create VIRAL pins
1. Optimize your name, boards and pins for Pinterest Search
Consider the importance of your business name when you start creating your Pinterest content. You want your business name to be long term and sustainable for your brand. Many branded companies make the mistake of using only their branded name for their Pinterest user account name. This is not ideal, as they lose out on people searching for them with other terms.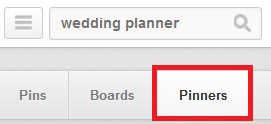 Add a descriptive keyword that you want to be associated with to the end of your business name to increase the chances of your Pinterest business account being found through a search for Pinners.
Put keywords in the titles of your Pinterest boards so other users can find them easily through the Boards search option.This doesn't refer to the URL that Pinterest assigns you, but your "Business Name." You can edit your business name by going to Settings, and then Edit Profile.
To increase the chances of showing up in Pins search results, include the keywords you want to be found for as early as possible in the description of your pin. How can you do this? To do this, find out which words people are using when they search for something on Pinterest. All you have to do is type words related to your industry in the search box and popular suggestions automatically pop up.
When I type in the word kitchen, autosuggestions like kitchen cabinets and kitchen décor pop up.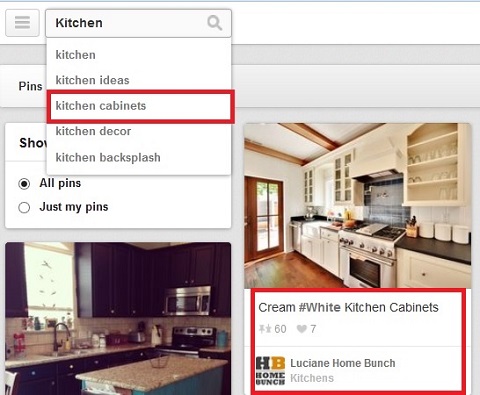 Joining active group boards within your niche is also helpful. Group boards are often founded by active members with large Pinterest followings, with some luck and quality content, they'll save your pins for their audience to look. This is a great way to attract eyeballs onto your content from Pinterest accounts larger than yours! Group boards are started and moderated by one account and then they can invite other Pinterest users to join the board and also pin to it. When so, done is invited to a board, it shows on their account and they can pin to the board.
Read more: Pinterest Tips: How to Successfully Create and Apply to Join Pinterest Group Boards
2. Use a scheduling tool
Pinterest can be a very powerful marketing platform, but it takes a lot of time and effort to follow the suggested 10-15 pins per day. And the easiest way we've found to do so is by scheduling Pins into a queue so that there's always fresh content on deck. By far, the most helpful tool for scheduling and analytics has been Tailwind.
Tailwind is a complete Pinterest management tool with some pretty neat analytics options. In addition to scheduling and the standard stats, you can analyze your competitors, see trending pints, top repinners, and your most influential followers.
Tailwind also has three unique built in features that can save you a lot of time when creating and scheduling pins:
You can group themed boards into global boards for one-time, multi-board pinning: This feature lets you pin to one global board, and it'll also go to lots of other individual boards assigned to it with one click. Thus, the global boards through Tailwind will be titled "boards" to distinguish them from standard Pinterest boards.
The ability to space out those group pins in your chosen intervals to prevent redundancy: In this case, if you have 7 boards in a global board, the same pin can be pinned over a certain period of once a day, once every other day, etc.
Your pin deck can be shuffled around while keeping the interval pins above locked in place at a given time: This feature allows you to upload up to 1,000 pins into your queue, click a button to randomize all of them, but still keep the interval pins in the bullet above locked in your chosen schedule.
Finally, it's worth mentioning that although Tailwind now has Instagram scheduling and publishing feature, most of the features are channeled towards Pinterest, and that's the network we'll focus more on for this Tailwind review and tutorial.
Pro tip: Create a free Tailwind account and start joining tribes to share your content and receive Pin saves from others within your niche! Let us know how you like Tailwind in the comments.
3. Create pin worthy images
I believe that this is the best way to get your pins re-pinned. Yes, content is king, and it's super important to have quality content. However, on Pinterest no one is going to see your content right away. The first thing they will see is your image. The fact is that people like to pin visually attractive images. Every time you create a post, you should make sure you have at least one pin worthy image. Here are some tips for creating a pinnable image:
The image should have the post title placed on it you, with your blogs URL at the bottom of the image (just like the image in this post). You can use a free online photo editor such as PicMonkey to edit your images.
The image should be vertical. Vertical images stand out really nicely on Pinterest. I recommend a minimum size of 700px in width by 800px in height. You can always go larger, but I wouldn't go smaller than that.
Use real photos – pins that use real photos as a background will get more traction than ones that use text over a plain background
Use light and visually appealing colors (think light blue, pink, or yellow) rather than neutrals or dark colors
Keep your pins under 5000 pixels high – the taller the pin is, the harder it is for pinners to repin it
Use catchy titles. Which pin are you most likely to re-pin? "How I Got More Traffic to My Blog" or "How I Doubled my Blog Traffic in 30 days" — I know I'm more likely to pin the second option. People are drawn to catchy titles, so make your titles catchy!
Tip: If you have older posts that you think deserve more pins, there's nothing wrong with re-working the images used in the post. I've actually re-worked most of the images in my past posts so they're more Pinterest friendly.
Read more: The 23 Best Pinterest Marketing Tools To Empower Your Pinterest Account
4. Re-pin useful content and old pins
It's a fact that not every one of your followers is going to see all of your pins. That's why it's important to repin previous pins from weeks and even months ago.
If you're gaining new followers fast, this tactic will help them discover great content from the past that's buried under your other pins.
This is especially helpful for offline retail businesses because repinning old pins reminds people of products they may have forgotten about. According to a study done by Vision Critical, when participants were asked how Pinterest affected their in-store purchases, 17% responded, "It reminded me that I intended to buy that item."
People usually pin their post once, and never go back to it. You want to make sure you are pinning your post multiple times. I recommend pinning your post to multiple boards that are similar to that pin.
I even recommend waiting a week or two, and going back and pinning your post all over again. I know some people may be against pinning to multiple boards because they think it's annoying. To that I say, pop-up sign up boxes are annoying to some people, but they are proven to work. Pinning to multiple boards may be annoying to some people, but it works.
5. Find the optimal timing for your Pinterest posts
Once you pin an image or video, it's immediately posted to your followers' "New" pages. After that, you have a very short window of time for it to go viral on Pinterest. Some say as little as 20-30 minutes.
Does that mean hope is lost if your image doesn't immediately go viral?
Well, not entirely. Your pins do stay visible on your pinboards, and occasionally one of them will get picked up by another user and may even get repinned a few times, sending you a small stream of traffic.
Still, the difference is huge. Compared to the amount of people who will see your image when it's new, the number of people who will bother to pick through your old pins is much lower.
So, you need to think strategically about timing. Maximize your time in the Pinterest spotlight by pinning your images when the greatest number of people will see them.
For most niches, that's between 6 AM and 6 PM, Eastern time, but again, that's just a rule of thumb. The smart strategy is to look at your traffic stats for your own blog to see when you consistently get the most traffic, and then plan to pin during those times, because that's when your audience is surfing the web and most likely to spread the word.
The bad news?
There's not really a way to automate it yet. Until Pinterest releases its API to developers, it's not possible to develop a pin scheduling tool, so you've got to be online and pinning during those Pinterest "peak times." Sorry.
6. Join and pin to group boards
Remember, consistency is the key with Pinterest: if you pin new content to Pinterest once a day, you'll gain new followers, and your Pinterest platform will grow. And the bigger your Pinterest platform is, the more people will click on links to your blog posts when you pin them (and the more traffic you will get from Pinterest). Group boards are a great way to share your pins and have them re-pinned. Find a group board related to your niche and ask to join. Instructions for joining the group board can usually be found in the boards description.
Pinners love new and original content, just like other social media users. So, instead of just repinning tired images from other users, find new stuff on the web to pin.
Tip: PinGroupie is a great directory for finding group boards related to your blogging niche.
Read more: Pinterest Tips: How to Successfully Create and Apply to Join Pinterest Group Boards
7. Collect and curate awesome Pinterest content
Your job on Pinterest is to gather and display awesome content in your niche – and that makes you a curator.
In the real world, professional curators gather, organize and display items for museums and galleries. Your job as an online curator is to do the same thing for your virtual audience.
Being a Pinterest curator means you pick the best images and then organize them in an interesting way that benefits your core audience. In other words, you cherry-pick all the best images related to your topic and pin them to your boards.
If you do a good job, it'll help you build your authority, and people will eventually look to you as the go-to source for cool images on your topic. When that happens, you can bet they'll come back to you again and again, giving you lots of chances to tell them about your blog.
So get the goods. And then pin the goods. Because when you're a great curator, your audience will grow exponentially.
8. Sponsor legit Pinterest giveaways and contests
You can overdo contests on Pinterest, just as you can on other social media sites. And some folks may criticize you for "buying" followers using contests.
But I think you can run a Pinterest contest that doesn't suck. Done well, contests on Pinterest can create buzz for your business AND be exciting and interesting for contest participants, too.
To run a contest that doesn't suck:
Ask your followers and readers to create pinboards based on a theme you select. Harrod's department store in London recently held a contest that asked their readers to create storefront ideas based on the theme of Queen Elizabeth's Diamond Jubilee this summer. Better Homes and Gardens also ran a similar "Dream House" contest for their Pinterest followers.
Keep it simple. Don't ask contest participants to do five different things in order to enter. Make it a two-step process: Create a board, and tell you about that board (whether it's on Twitter, email, or blog comment)
Make sure you spell out the rules clearly on your blog. Then link to that blog post on a dedicated contest Pinterest board.
Open and close your contest on time.
Make a really big deal of announcing the winner. You want that person to get lots of good press, so publish the winner's board on your blog, talk about it on Twitter and Facebook, and make a big fuss about it on Pinterest. The more you publicize your contest AND the winner, the more people will likely participate in your next contest.
Don't do contests too often. Once or twice a year is plenty.
9. Write high quality keyword descriptions
When you upload your image, you will want to make sure that the "alt-text" wording is where you place your keyword descriptions. This is the default which is pulled onto the pin when shared by anyone who visits your site.
Making sure that you have the right keywords is important because it will help your pins come up through search. Also, most people will not edit your descriptions, ensuring that what you want your pin to say will remain intact. For instance, you would not way "pizza dough recipe" for your description.
Instead, say "This is the ONLY recipe you'll ever need for authentic, thin and crispy, Italian homemade pizza dough – naturally vegan and dairy-free, and just 5 ingredients needed!"
The second one contains many more of the keywords under which this pin will now be found.
Your pin description should match the blog post title, which can also help with a lot of your link building efforts. Pinterest wants users to have a good experience. When they click your pin image to open up the article, they want the article to live up to the expectations the user has for the link they are opening. The content of the pin should match the content of the landing page or blog article.
Read more: Pinterest Monthly Views: What Does it Mean?
There you've got it! The things you will need to do to try to help your pin take off and go viral! If you have had this happen for you, please let me know – I'd love to help give you a little more pinning love myself!