Having trouble getting more traffic to your blog? Read lots of 'ultimate guides' and courses, but results didn't show?
We've been using these strategies to grow our monthly blog following – switch up your current strategy, and learn about best blogging practices to increase traffic and reach new readers.
How did we do it? Here are ten tried and tested strategies that we used to increase our blog traffic:
Create in-depth content
Fun fact: the average #1 ranking page also ranks in the top 10 for nearly 1,000 other keywords!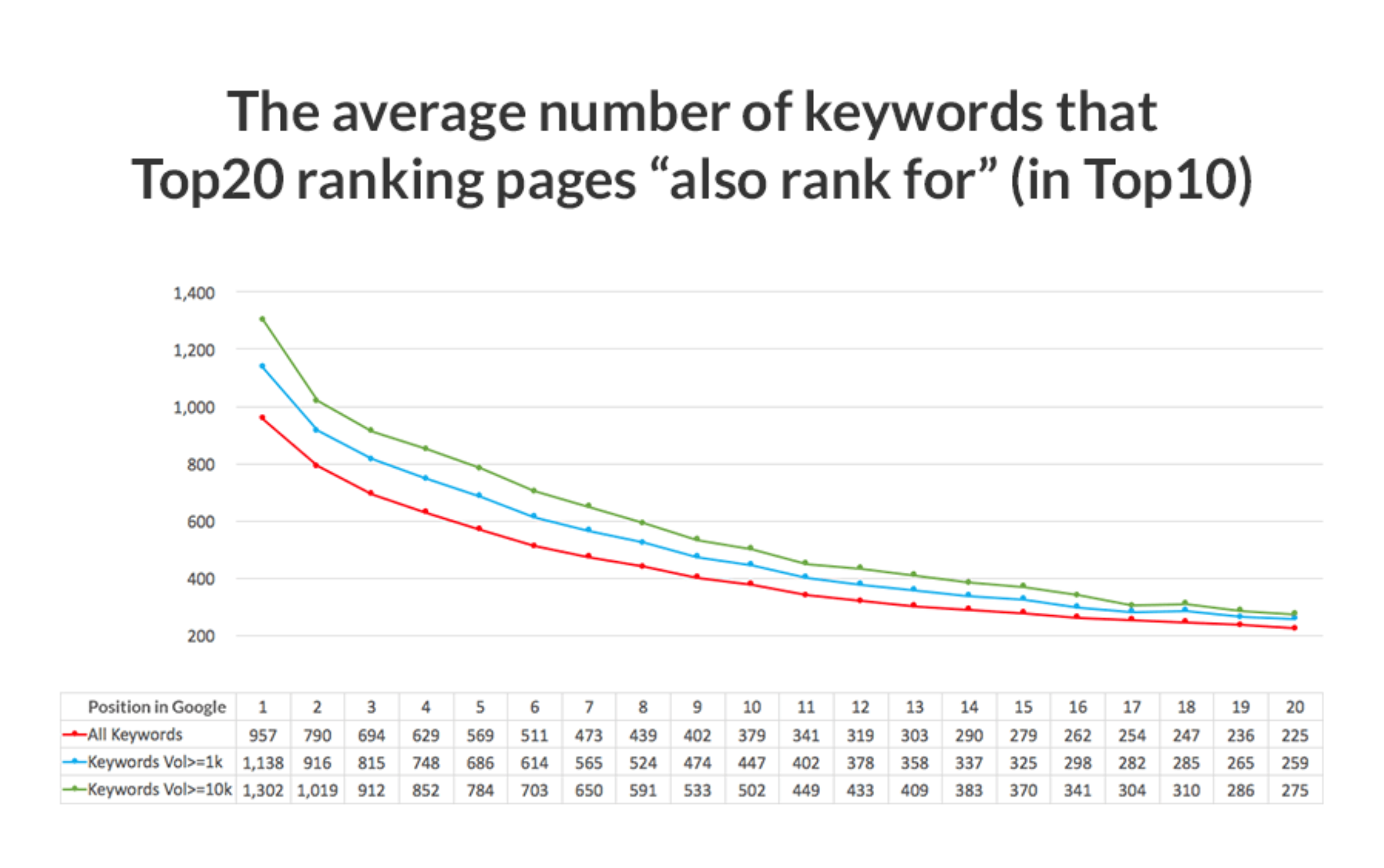 This happens because Google understands that when people search for variations of the same topic, they're all looking for the same thing. As a result, they often rank the same pages for lots of related long-tail queries.
In order to improve your chances of ranking for queries like this, create content that covers a topic in as much detail as possible.
Build an email list
Every time you publish a blog, you should be sending out a blog notification to your entire email list to notify them about new content. Make your website is set up so that people can opt-in to subscribe to hear about new posts and more.
Why email? Platforms like Facebook can deliberately limit your reach (the average organic reach on Facebook is around 1-6%). With email, you are able to communicate with your entire fan base at any time.
Building a list doesn't have to be complicated – if you want to be aggressive with building your email list, try offering something useful, such as a PDF version of the post or a free 7-day course in exchange for their email.
Boost posts with internal links
What are internal links? Internal links are links from one page on the same website to another. If you can add internal links from relevant, high-authority pages to those that need a boost, that may help their performance in the search engines.
It's really easy as well: look for pages that are ranking in positions #2-5 for their primary keyword. For these pages, a few powerful internal links can actually make a large difference.
After all, around 70% of first-page clicks go to the top 3 results.
Publish guest posts
Did you know that some of the best performing posts on a website are from guests? One of the benefits of guest posting is that you can tap into the expertise of others.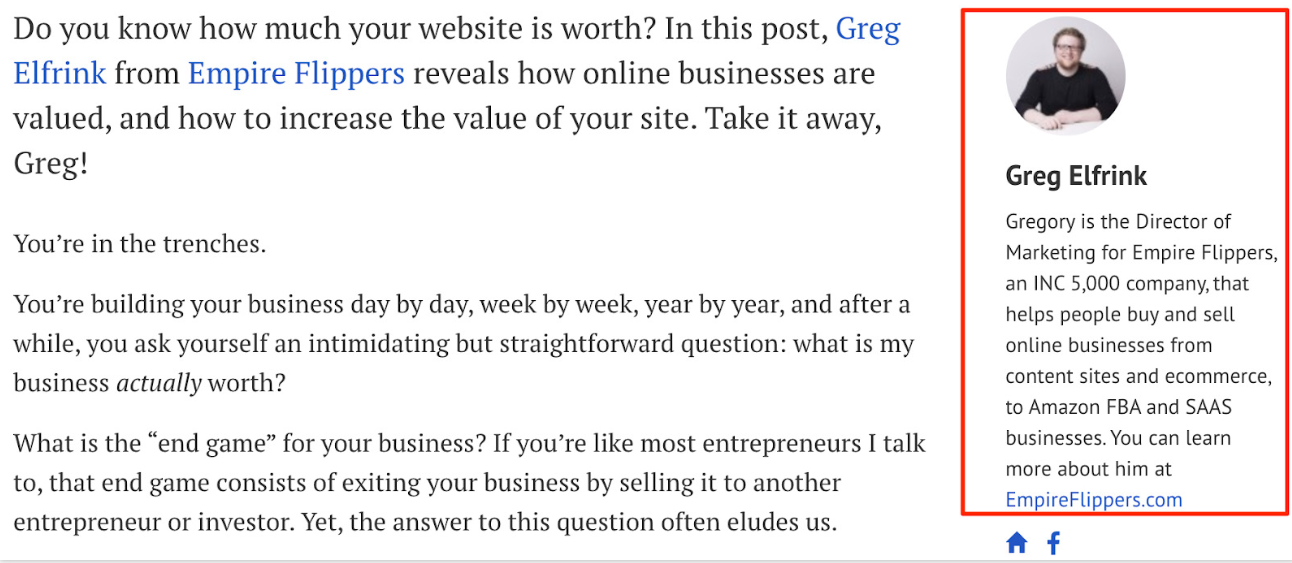 Guest posting is a win-win situation for both parties. The writer can get exposure and publicity on your blog, and the host will receive a high-quality piece of content to share on their website.
However, you shouldn't accept all guest post inquiries. You should only be pursuing guest posts about topics with search traffic potential, then work with the author to create something that aligns with search intent and covers the topic in full. This way, the post stands a chance of ranking in Google and pulling passive traffic month after month.
Run ads
Ads don't have to be super expensive. You can still get consistent clicks from Facebook ads for around $0.40 per click. When targeting other languages, you can get even lower ad rates, some as low as $0.10 per click.
Facebook isn't the only place to purchase ads. Test around with Google, Bing, Twitter, Instagram, and other sites as well.

Create shareable images
Create high quality images to share with your readers in your blog content! Ultimately, producing a good combination of high quality images and text is the key to helping your content rank on the results page. Plus, people love images because they help improve information retention.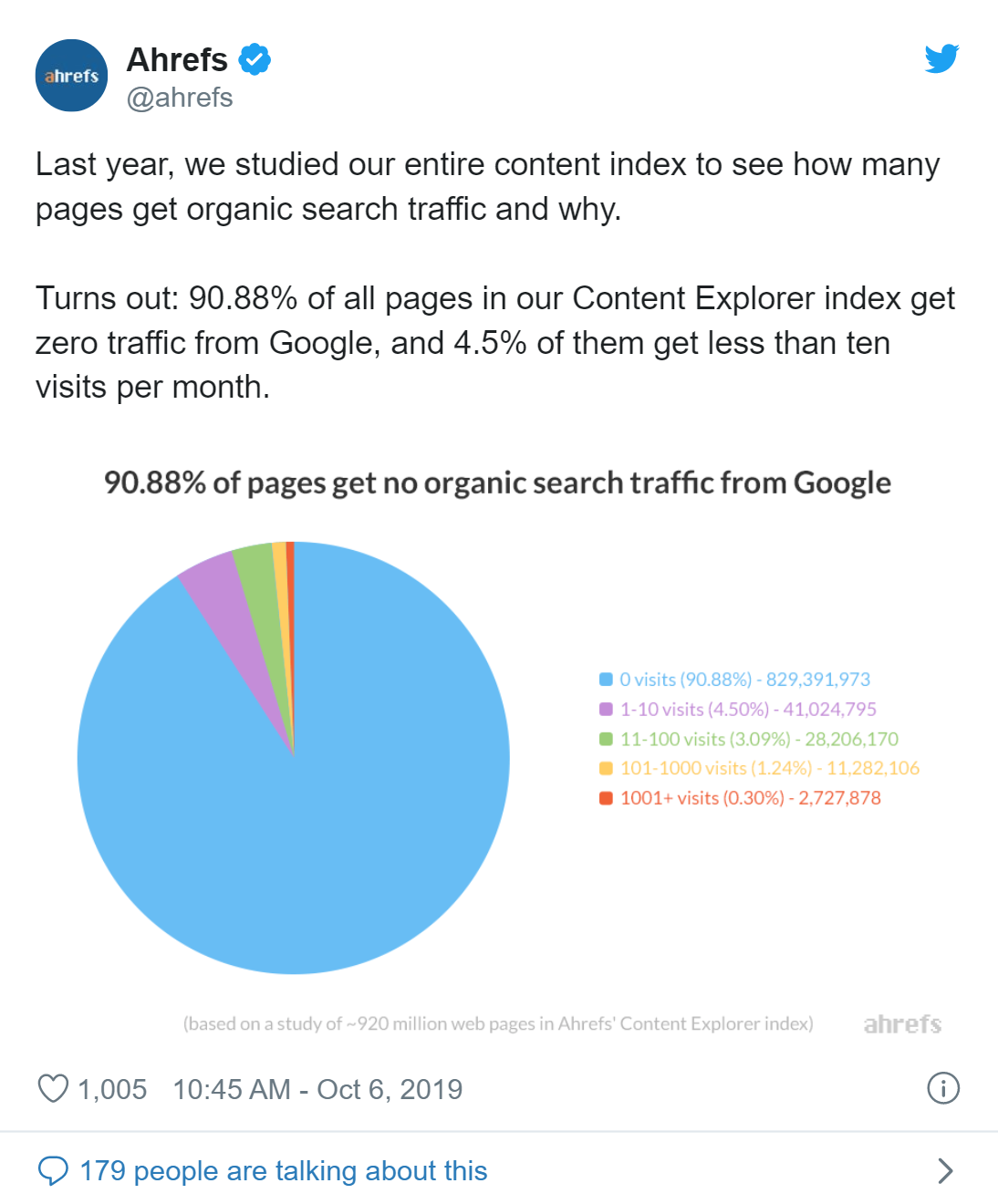 With tools like Canva, creating shareable images isn't as difficult as it was before. If you're in a visual-heavy niche like cooking or sports, grab your smartphone, take a few photos, and your social shares may see a sharp increase – especially on networks like Pinterest.
If you're creating graphics and images on a budget, you can also look into outsourcing sites like Fiverr, where you can get low-cost graphic designs starting at only $5.
Match search intent
Search intent is the why behind the search query. Why does it matter?
Google aims to provide users with the most relevant results for their search queries. If you want to rank high on Google, you need to be the most relevant result for your searches – and that means your content aligns with the search intent.
Since Google is already delivering the kind of content people want to see, you can reverse-engineer search intent by looking at what is already ranking.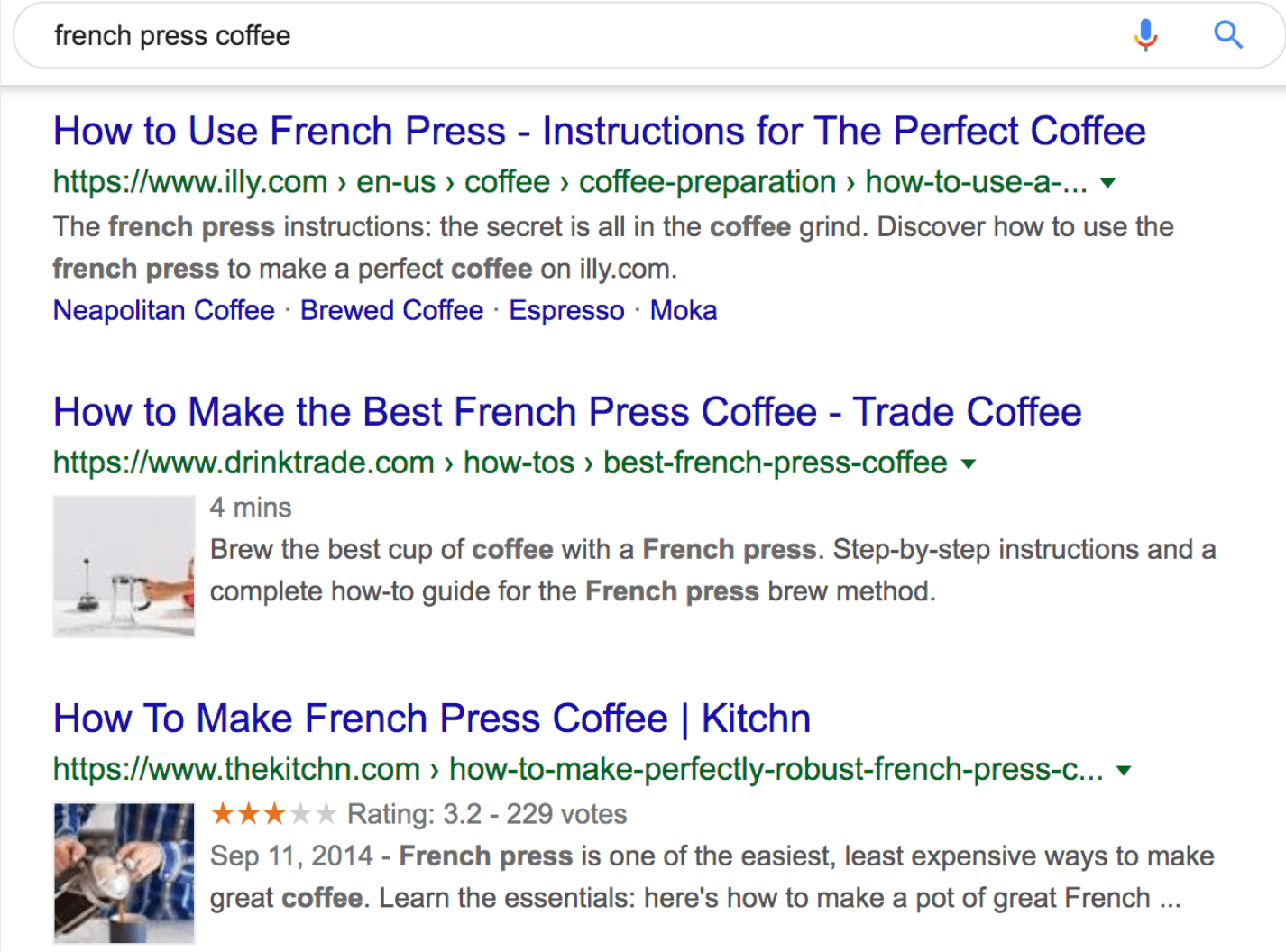 Most of the top-ranking pages are "how-to" articles on making french press coffee, so that's what you should be writing about to stand a chance at ranking for this specific keyword.
Reach out to people you mention
If you've written an in-depth article, chances are you've linked to useful resources from other bloggers. An easy solution is just to reach out and let them know.
If you're lucky, they'll share it on their social profiles and send some extra traffic your way. The primary goal with this is to reach out and build a relationship. This may eventually help you further down the line, as it could become a partnership, more shares, more links, etc.
This is pretty simple to do as well: write your blog post, and then look for mentions of bloggers in your space. Then, find their email and reach out to let them know.
Promote content in relevant communities
Online communities are awesome for promoting content. People are already in one place, so all you have to do is persuade them to check out your content. Before posting in any relevant communities, please make sure that the content you are posting is relevant and useful for the community members. The purpose of posting your content to communities is to share your blog without advertising, if you are too aggressive with sharing your content, community members may become upset at you. You're not limited to one community as well, you can tap into a bunch of different online networks:
Facebook
Reddit
Pinterest
Forums
Before you think about promoting anything in a group, join them, study their "culture", and familiarize yourself with the rules of the community. Figure out what people typically discuss, what kind of posts get high engagement, and what posts aren't allowed. Along the way, try to become an active member by leaving comments, participating in discussions, asking questions, and so on. If you're active, the admin/moderator will notice that you're actively contributing to the community.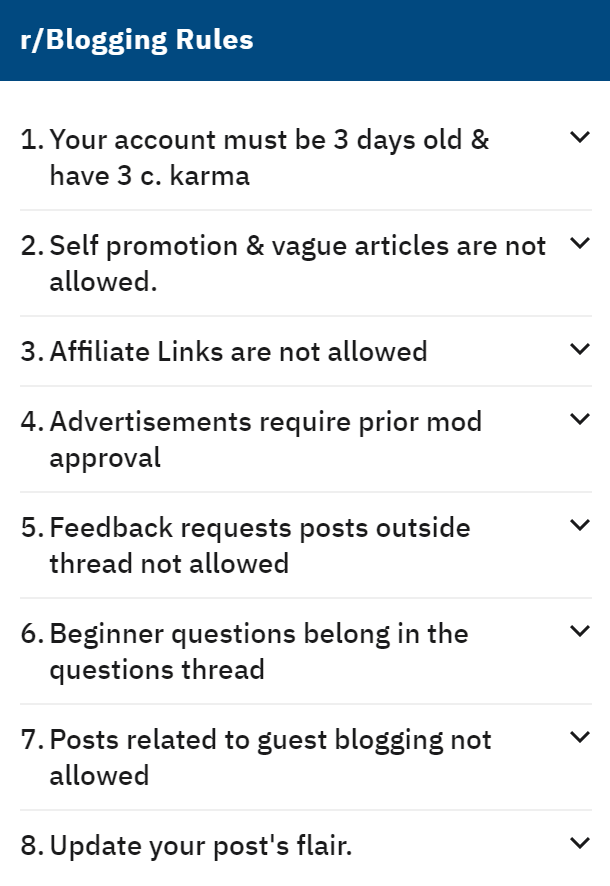 This strategy should help you get in good standing with most communities. From there, you should be able to share your content without getting any backlash.
Answer questions on Quora
Quora is a Q&A site where anyone can ask questions or answer them.
Quora also has an audience of 300 million monthly unique users to tap into. But that's not the coolest part… the best thing about Quora is that it ranks for millions of keywords in Google and gets ~88 million organic search visits per month.

If you can somehow find the questions that rank in Google, you can answer them and potentially earn referral traffic to your site. Ahref's Site Explorer function can help you find relevant questions that receive the most search traffic.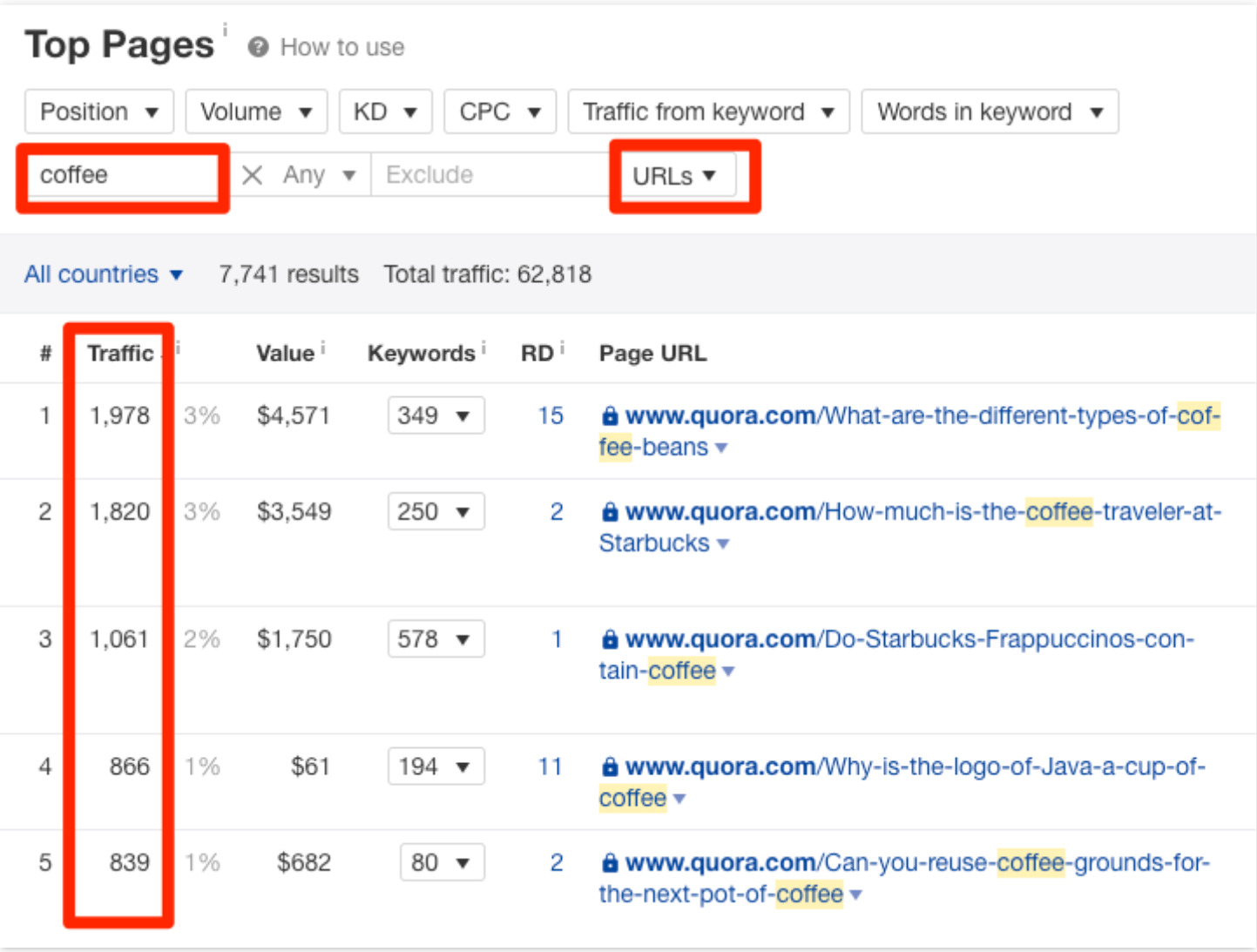 After identifying top pages with traffic, the next step is just to answer as many relevant questions as you can. There is no short way to get this done, and answering the questions just requires knowledge and good copywriting skills.